As part of the Unified Community Platform project, your wiki will be migrated to the new platform in the next few weeks. Read more here.
Official Islands of Nyne Wiki/de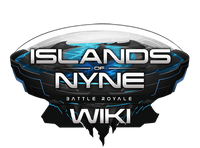 Wilkommen beim Islands of Nyne Wiki
Welcome to the Official Islands of Nyne Wiki
Das Islands of Nyne Wiki wird von Spielern geschrieben und gewartet.
Fühl dich frei zu helfen, indem du neue Artikel erstellst oder bestehende erweiterst, um deine Alien overlords zu erfreuen.
Spotlight: Islands of Nyne
Islands of Nyne: Battle Royale
is an online, competitive first-person shooter inspired by works such as
Battle Royale
and
The Hunger Games
. Chosen by a mysterious alien race and taken to a distant planet, one hundred players must fight each other to the death in one of three ever-shrinking arenas. Drop in, find a weapon, and stay alive... for there can be only one!
Wiki Community
We are currently maintaining 405 pages (76 articles)!
Recent changes | New pages | Missing pages
See how you can help contribute to Islands of Nyne Wiki! Remember to maintain a standard for grammar and punctuation in your contributions, please.
Register an account to keep track of your contributions.