As part of the Unified Community Platform project, your wiki will be migrated to the new platform in the next few weeks. Read more here.
Official Islands of Nyne Wiki/fr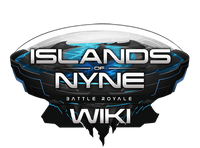 Bienvenue sur le Wiki Officiel d' Islands of Nyne
Bienvenue sur le Wiki Officiel d' Islands of Nyne
Le wiki référence d' Islands of Nyne écrit et mis à jour par les joueurs.
N'hésitez pas à créer de nouveaux articles ou à mettre à jour ceux déjà existents.
Islands of Nyne
Islands of Nyne: Battle Royale
est un jeu de tir multijoueur et compétitif à la première personne inspirés d'ouvrages tels que
Battle Royale
et
Hunger Games
. Choisis par une mystérieuse civilisation extra-terrestre puis emmenés sur une planète inconnue, cent joueurs doivent s'entre tuer dans une des trois arènes appelées Dôme. Atterrissez, trouvez une arme, et restez en vie... Il n'en restera qu'un !
Wiki Community
We are currently maintaining 405 pages (76 articles)!
Recent changes | New pages | Missing pages
See how you can help contribute to Islands of Nyne Wiki! Remember to maintain a standard for grammar and punctuation in your contributions, please.
Register an account to keep track of your contributions.