As part of the Unified Community Platform project, your wiki will be migrated to the new platform in the next few weeks. Read more here.
Official Islands of Nyne Wiki/pl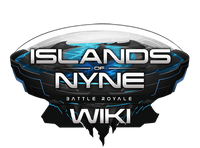 Witaj na oficjalnym wiki Islands of Nyne
Witaj na oficjalnym wiki Islands of Nyne
The Islands of Nyne napisana i utrzymywana przez graczy.
Zapraszamy do współpracy przy tworzeniu nowych artykułów lub rozbudowywaniu już istniejących, aby zadowolić swoich nadprzyrodzonych obcych.
Od tłumacza: Cześć! Tutaj MattTamer, bardzo przydałaby mi się pomoc w tworzeniu tej wiki po polsku! Spędziłem pare godzin nad tworzeniem już tak dużej części.
Więc jeżeli jesteś zainteresowany to szukaj błędów lub stron które nie zostały jeszcze przetłumaczone i tłumacz! A ja kiedyś kupię Ci za to kawe.
Miłego dnia czy nocy, Matt.
O grze: Islands of Nyne
Islands of Nyne: Battle Royale
to pierwszoosobowa gra multiplayer, wzorowana na
Battle Royale
i
The Hunger Games
. Setka graczy, wybranych przez tajemniczą rasę obcych została zabrana na planetę na której musi walczyć ze sobą, aż do śmierci na jednej z trzech wszechobecnych aren. Wejdź, znajdź broń i pozostań przy życiu... bo wygrać może tylko jedna osoba!